East Kentucky is Low-Cost
Kentucky is a proven low-cost state for businesses and individuals.  With world-class manufacturing, distribution and healthcare facilities, the evidence is obvious.  Toyota, Ford, GM, UPS, DHL, Tyson, Humana and many other corporations call the Bluegrass State Home.  One East Kentucky wants to help your business make an easy transition into a region of the state that is business friendly and has the most highly skilled, available workforce in the country.  The focus of this page is Business Cost.  For information about Cost of Living, visit our Regional Profile page.
Corporate Costs Are Low in Kentucky
Kentucky's tax structure and business friendliness is a focal point of state officials.  Governor Matt Bevin's Red Tape Reduction Initiative is a commitment to reducing excessive and complex regulatory burdens and continue to make all of Kentucky a better place to do business.  In east Kentucky, many of our communities have yet to levy certain corporate taxes and are a low cost option for new industry.  All nine of One East Kentucky's counties qualify for enhanced corporate incentives by the state of Kentucky.  Additionally, all four of our regional industrial parks qualify for New Markets Tax Credits.  Some important Kentucky Tax Facts are below:
Corporate Net Income Tax
| Net Taxable Income | Tax Rate Per Taxable Income Level |
| --- | --- |
|  $0 - $50,000 |  4% |
|  $50,001 - $100,000 |  5% |
|  >$100,000 |  6% |
*Sole Proprietorships and pass-through entities are exempt from state corporate income taxes.
Local Occupational License Tax
Kentucky allows cities, counties and school districts to levy occupational license taxes on the net profits of businesses.  They may be levied either on a flat-rate schedule or as a percentage of local net profits or gross receipts.
|  Taxable Entity (County) |  License Tax |  Taxable Entity (City) |  License Tax |
| --- | --- | --- | --- |
|  Floyd County |  No Tax |  Prestonsburg |  1.5% Net Profits |
|  Knott County |  No Tax |  Hindman |  No Tax |
|  Johnson County |  0.5% Net Profits |  Paintsville |  1% Net Profits |
|  Lawrence County |  No Tax |  Louisa |  No Tax |
|  Letcher County |  No Tax |  Jenkins |  1.5% Net Profits |
|  Magoffin County |  No Tax |  Salyersville |  No Tax |
|  Martin County |  No Tax |  Inez |  No Tax |
|  Perry County |  2% Net Profits |  Hazard |  1.75% Net Profits |
|  Pike County |  1% Net Profits |  Pikeville |  2% Net Profits |
*Some entities levy the same percentage tax on payroll, but that amount is paid by the employee, not the business
Sales Tax (Exemptions)
The state sales tax is 6% with no local sales taxes in Kentucky.  Major exemptions from the state sales tax important to business and industry include:
Machinery for new and expanded industry
Raw Materials, Industrial Supplies, and Industrial Tools
Items purchased for resale
Certified Pollution Control Equipment
Containers, packaging, and wrapping materials used in manufacturing
Industrial supplies and tools used to perform a manufacturing process on another entity's property
Energy and energy producing fuels, to the extent that they exceed 3% of the cost of production in manufacturing
Unemployment Insurance
For new employers, the rate is 2.7% on the first $9,900 in wages per employee and will increase $300 each year until 2022.  Unemployment Insurance tax rates for Kentucky's employers are set annually from statutory tables of rates.
Labor Costs Are Lower in Kentucky
East Kentucky's Labor Costs are 20% Lower than the United States Average as well as 14% Lower than the Kentucky Average!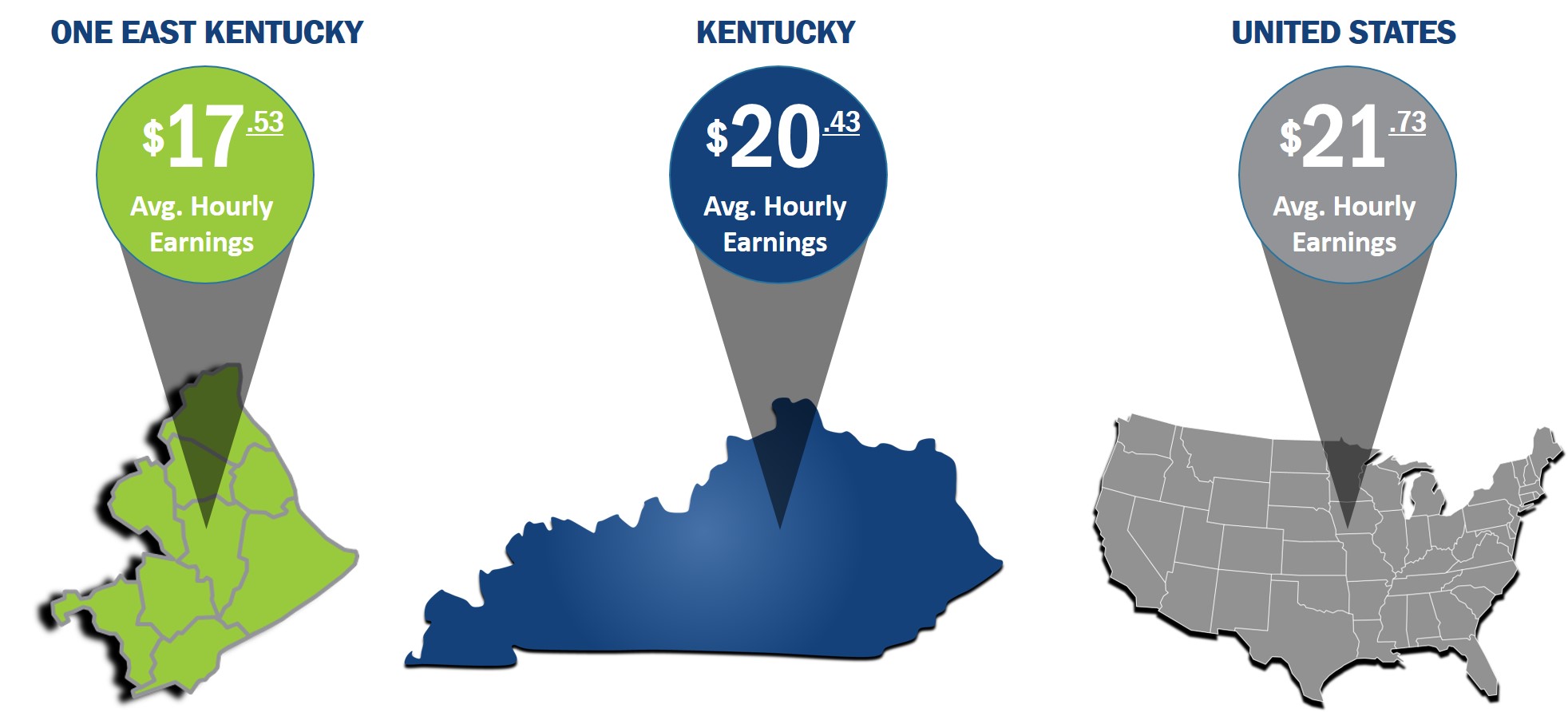 Real Estate & Occupancy Costs
The One East Kentucky Region is 10% LOWER than the National Average in New Construction Costs, According to RS MEANS Data
The One East Kentucky region has over 3,000 acres of available industrial property and buildings.  Our Regional Multi-County Industrial Parks are governed by Industrial Boards who are appointed by county Judge Executives.  These Industrial Boards set the price of industrial property which they own.  Average prices of an acre of industrial land in these parks is $12,000 USD.  However, these Industrial Boards are more than willing to negotiate reduced or free land grants to qualifying economic development projects and companies based on new job creation as well as capital investment.
Additionally, industrial building and lease costs run below national average.  For example, an industrial building in Perry County is currently obtainable for 90% less than the cost of new construction!  Sale, Lease and Terms are also negotiable based upon new job creation and capital investment for facilities owned by Industrial Boards and Municipalities.
Energy Costs
Electric Power
AEP Kentucky Power is the primary provider of Electric Power in the One East Kentucky Region and they have one of the lowest base rates in the State of Kentucky!  With abundant, low-cost power, your company can be assured that ongoing costs remain stable.
Natural Gas
Unknown to many, the One East Kentucky region is blessed with an enormous amount of natural gas production.  This equates to not only availability and low-cost, but also gas that burns hotter than many other areas of the United States.  When compared on a BTU basis, the One East Kentucky Region has some of the most competitive Natural Gas prices in the country.