Aerospace in East Kentucky

Certified AEROready Region!
The nine counties of One East Kentucky have been designated as an AEROready Region by two national consulting firms. Tucson Atlantic Consulting along with Common Sense Economic Development conducted an in-depth analysis of fourteen essential qualities in aerospace site location searches as well as many secondary aviation support criteria.  They determined our region can successfully support Aerospace/Aviation OEM and MRO industries.
Key Reasons: 
74 Skill Sets are required in the Aerospace Sector.  In the OEK Regional Labor Pool, 7,700 individuals possess one or more of those skill sets.
Morehead State University's aerospace programs and R&D were critical to receiving the certification. The university also holds contracts with NASA and the Department of Defense.
An FAA certified A&P training facility located at Somerset Community & Technical College.
Three regional airports with additional acreage for industry development and leadership highly interested in attracting OEM/MRO operations with two airports being adjacent to an existing industrial park.
These advantages can be put to work for your company. Contact us to learn how!
Kentucky's Top Export is Aerospace
The state of Kentucky is home to a booming Aerospace Cluster.
Kentucky has seen a 183% increase in aerospace products and parts manufacturing industry exports since 2012
Kentucky has 52 Aerospace related facilities that employ nearly 15,000 people
Multiple technical and degree programs exist throughout the state related to Aerospace skills
Aerospace Facilities in Kentucky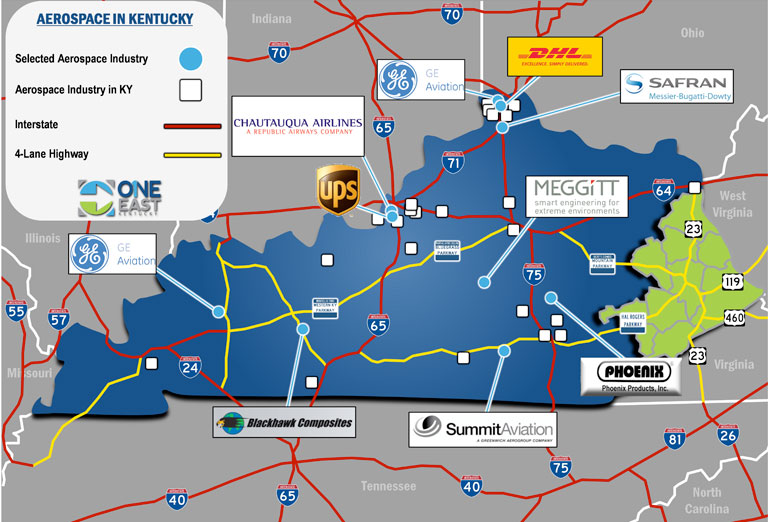 Aerospace Industry Near One East Kentucky Region
Why The One East Region Makes Sense
The One East Kentucky region is home to an impressive number of skilled workers whose education, experience and technical background would easily transition into the Aerospace Sector.
6 times US average in Plant and Systems Operators
4 times US average in Maintenance Workers, Machinery
2 times US average in Welding, Cutters, Solderers and Brazers
2 times US average in Metal Motor and Generator Manufacturing
2 times US average in Crushing, Grinding and Polishing Machine Operators
The Educational Advantage
Due to the high concentration of Aerospace in Kentucky, many post-secondary institutions offer programs tailored to the industry.  The Kentucky Community & Technical College System has the capacity and expertise to offer programs at any campus statewide.  Three universities near the One East Kentucky region offer Aerospace specific engineering and mechanical programs.
In addition, the new eKentucky Advanced Manufacturing Institute will provide a seamless transition for former coal workers into metalworking trades needed in the Aerospace Sector such as CNC Operators, Technicians and Machinists.  You can read more about all of these programs below.
eKentucky Advanced Manufacturing Institute

The Haas Technical Education Center Network is an industry & education led initiative that enables manufacturing technology educators and their schools to acquire the latest CNC machine tools and related CNC ancillary equipment, software and educational materials.  The East Kentucky Advanced Manufacturing Institute is the latest HTEC program and will provide students with a relevant high tech and hands-on educational experience.  The first students will be former coal industry workers transitioning to new industry.  The program will graduate work-ready CNC machinists, programmers & engineers for today's industrial employers as well the manufacturing challenges of the future.  HTEC Members can tap into a network of over 1700 institutes as well as nearly 100 CNC Technology Partners, who are pledged to support CNC Education.
The HTEC program is certified by the National Institute for Metalworking Skills (NIMS).  NIMS operates under rigorous and highly disciplined processes as the only developer of American National Standards for the nations metalworking industry.
Morehead State University Space Science Center
Located in the Eastern Kentucky community of Morehead, MSU's Space Science Center conducts research in the following areas:
Space Systems Development
Small Satellites and CubeSat
Micro & Nano Technologies
Space Communication Systems
University of Kentucky College of Engineering
At an hour and a half drive from the One East Kentucky region, the UK College of Engineering offers an Aerospace Option in their Engineering Certificate Program.  This program focuses on multidisciplinary experience in aerospace systems and specializations to prepare them for the aerospace workforce.  Visit the University of Kentucky College of Engineering's Aerospace Certificate Program.
Course Include:
Senior Design, Aircraft or Spacecraft
Gas Dynamics
Mechanical Vibrations
Systems Engineering
Composite Materials
Fluid Dynamics
Advanced Strength of Materials
Basic Combustion Phenomena
Scale Modeling
Spacecraft Propulsion
Flight Mechanics
Aerodynamics of Turbo-machinery
Aerospace Support Programs at Community/Technical Colleges
More than 14,000 students are currently enrolled in technical and community college programs at three colleges in our region.  The following programs are offered to support the Aerospace Manufacturing Sector:
---
Welding Technology
Certifications Available:
ARC Cutter
ARC Welder
AWS National Skills Standard Level 1
Gas Welder
Gas Metal ARC Welding
Gas Tungsten ARC Welding
Pipeline Welder
Production Line Welder
Shielded Metal ARC Welding
Tack Welder
Welder Helper
---
Machine Tool Technology
Certifications Available:
Exploratory Machining
Machine Tool Operator
CNC Operator
Tool and Die Apprentice
CNC Machining and Waterjet Technology
---
Engineering & Electronics
Certifications Available:
Automation Technology
Computer Maintenance Technician
Electronic Technician
Electronics Tester
Industrial Electronic Technician
Instrumentation Technician
Maintenance Technician
Mechanical Technician
Robotics and Automation Tech
---
Computer-Aided Draft and Design Technology
Certifications Available:
Computer-Assisted Drafter
Detailer
Drafter Assistant
---
Manufacturing Industrial Technology/Industrial Maintenance Technology
Certifications Available:
Fluid Power Mechanic
Industrial Maintenance Mechanic
Industrial Maintenance Machinists Mechanic
Industrial Maintenance Electrical Mechanic
---
Manufacturing Engineering Technology – Electrical Technology
Certifications Available:
Electrical Motor Control I
Electrical Motor Control II
Electrician Trainee
---
Aerospace/Aviation Technology
Programs Available:
Aviation Maintenance Technology
Aircraft Structures
Aircraft Powerplants
Airframe Maintenance Technician
Powerplant Maintenance Technician
Transportation Access
North – South:  U.S. Highway 23 provides 4-Lane access North and South throughout Eastern Kentucky.
East -West: The Mountain Parkway, Hal Rogers Parkway and U.S. Highway 119 provide 4-Lane access East and West throughout Eastern Kentucky.
Rail Access
We have access to 2 Class I Railroads: CSX and Norfolk Southern.
Port Access
The Port of Huntington Tri-State is the largest inland port in the United States and is part of our region.  The port averages an annual cargo tonnage of over 60 million tons per year and is the 15th largest port of any kind, inland or deep water, in the U.S.A.