Why Canadian Aluminum Company Dajcor Chose to Locate in Eastern Kentucky
Dajcor Aluminum is an aluminum products manufacturer based in Canada, who also services the U.S. market. To be closer to their customers, they decided to search for a second location in the United States. They chose Eastern Kentucky, but why? With communities throughout the country vying for their business, what made Eastern Kentucky stand out as the right location for their U.S. plant? Here's what Mike Kilby, President and CEO of Dajcor had to say –
"Perry County, in Eastern Kentucky, offers a ready workforce."
It's true – Eastern Kentucky has the largest available skilled workforce in the entire United States. Throughout the country unemployment rates are so low that it is difficult for companies to recruit the talent they need to run their operations and be successful. That is not the case in Eastern Kentucky. Due to the changing energy markets, the region is home to skilled and hardworking talent that used to be employed in the coal industry. Now, they are looking to apply those same skills to manufacturing companies in need of skilled labor, engineers, welders, etc.
Imagine opening your doors, putting out want ads and receiving thousands of applications for employees with the skills your business requires. That's not a dream in Eastern Kentucky. It's a reality – one that will help Dajcor to begin operating quickly.
"Eastern Kentucky has excellent state-of-the-art fabrication training facilities within the area. They have a red-carpet approach to additional employee training and recruitment."
Technology is changing constantly and so businesses must have access to ongoing workforce training programs. Eastern Kentucky offers them at the local community and tech schools. Custom programs can be created, or businesses can train employees using the current curriculum.
"The red tape is minimal and the people running the programs are super enthusiastic to help."
The Kentucky Cabinet for Economic Development, One East Kentucky and local partners have all taken steps to make starting a business in Eastern Kentucky as easy as possible. The red tape has already been cut. Still, businesses that need assistance in finding locations, getting permits approved or becoming licensed will find a team at One East Kentucky that is ready and willing to help.
"This project will not only expand our capacity but also our geographic reach as our first manufacturing facility in the USA."
Eastern Kentucky is conveniently located and offers Dajcor easy access to their current customers, along with prospects in the automotive, aerospace, defense and manufacturing industries. This is because Kentucky is located within a day's drive of 2/3 of the US population and in the center of a 34-state distribution area in the Eastern U.S., in addition to being within 200 miles of 7 Automotive OEMs.
"Local business leaders have been enthusiastic to offer assistance in whatever way possible."
This is a supportive and collaborative environment where existing businesses are open for new ones to join them. Here, new businesses are welcomed and supported during the recruitment process and after. For example, One East Kentucky helps new businesses with workforce recruitment, even helping to narrow down the candidate pool so businesses can interview workers with the most closely matched skillset.
"We were able to access financial incentives from the Federal Abandoned Mine Lands funds."
It is common for growing businesses to benefit from Kentucky's financial incentives. To find out what your business could qualify for, contact One East Kentucky.
Join Dajcor in Industrial Parks in Hazard and Eastern Kentucky
Dajcor has chosen to build their plant in an industrial park in Hazard and Eastern Kentucky. They will be investing $19.6 million and creating 265 full-time jobs. Hazard industrial parks have room for Dajcor and other businesses. We invite you to consider the many benefits of locating in Eastern Kentucky so that, like Dajcor, your business can leverage the region's assets for its success.
To learn more about the benefits of locating in Eastern Kentucky or to view industrial parks in Hazard, contact One East Kentucky President and CEO, Chuck Sexton, by calling 606-886-7333 or by emailing chuck@oneeastky.com.
More Topics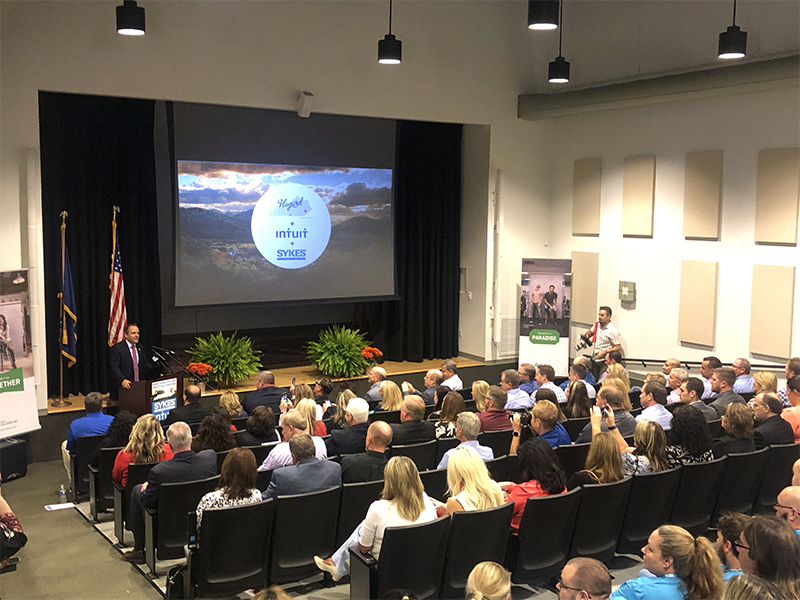 Gov. Matt Bevin today joined local officials and executives from Intuit Inc. and Sykes Enterprises Inc. to announce a partnership between the companies to create 300 full-time customer success jobs at a 'Prosperity Hub' in Perry County's Coal Fields Regional Industrial Park.
MOREHEAD, Ky. - A Kentucky program is assisting with an upcoming NASA moon mission. Students at Morehead State University designed a Lunar IceCube satellite. That CubeSat is one of thirteen launching with NASA's Space Launch System (SLS), which is the largest and most powerful rocket ever built. "It's a huge thing for us," Morehead State Universit...
The East Kentucky Expo Center's new name is now official. At an event in downtown Pikeville, the East Kentucky Expo Center was officially christened "Appalachian Wireless Arena." The renaming is the first in the venue's near decade-and-a-half history and became official with a ribbon-cutting ceremony in the arena's plaza. Community Trust Bank...